11
« Last post by coney on November 28, 2023, 06:19pm »

Scarlet Witch

This is a booster for the Scarlet Witch! My goal was to give Wanda more powerful and chaotic effects to her powerset because I felt like her base game version didn't really make use of her reality warping capabilities to their full extent. It was really fun working on her because with Wanda anything can happen, such as causing her enemies to shrink in size! Wanda is now fully ready to save her brother Quicksilver from Apocalypse!!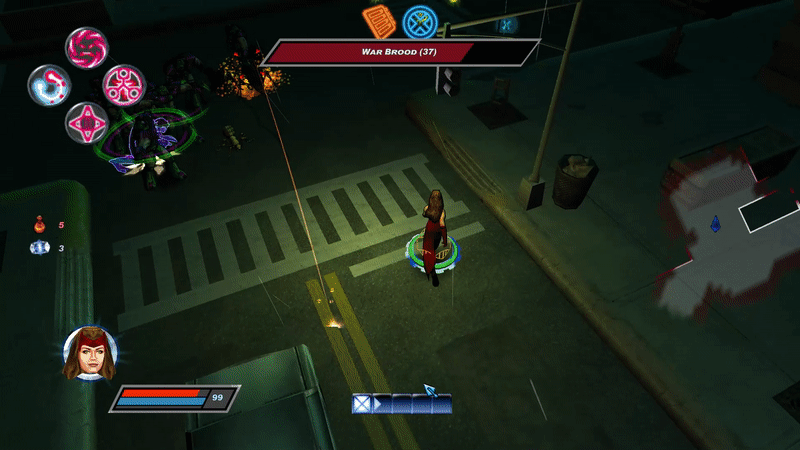 Attacks
Hex Bolts:
Fire homing Hex-Bolt(s) that deal a random damage type and effect. Now uses red colors for effects.
Possible Effects - DMG Blade - Deals Bonus Damage - DMG Wind - Causes Popup - DMG Energy - Heals Scarlet Witch for percentage of Dmg dealt - DMG Electricity - Shrinks enemies - DMG Radiation - Causes enemies to get stuck in place
Combustion:
No Changes
Transmutation (Reality Shift):
No Changes
Disaster Field (New Power):
Use Chaos Magic to create a field which alters gravity, causing all enemies to become suspended in the air.
Reality Warp (Hex Explostion):
Fire a Hex-Bolt which explodes on impact, causing all enemies to shrink in size and reduces their damage for a time.
Misfortune:
Cast a spell which trips enemies and either nullifies their powers for a time or causes enemy attacks to backfire, reflecting a percentage of damage back on themselves.
X-tremes
Anarchy Assault :
No changes
Revitalize:
No changes
Boosts
Chaos Blessing (Heal):
No Changes.
Probability Syphon:
No Changes
Amplify Luck:
No Changes
Passives
Wanda now starts with 10% Energy Resistance.
Protection Spell (Deflect Missiles):
No changes
Witchcraft (Scarlet's Touch):
No Changes
Chaos Magic Mastery (Hex Mastery):
Now increases DMG and Critical Hit chance for all powers.
Mutant Master:
No Changes
Aesthetics
Now features 9 new and updated skins
Uses Ps2 Power Icon textures
Higher quality default Hud Head
BaconWizard17: Skins, 3D Heads
jonohood mods: Disaster Field Effect inspiration